Bed bugs, or cimex lectularis, are small parasites ranging in size from poppy seeds to apple seeds (adults are 3/16 inch long). They are flat, oval, reddish-brown in color, and wingless. Bed bugs undergo a gradual metamorphosis with egg, nymph, and adult stages.
Under favorable conditions, they can complete development in as little as a month, producing three or more generations per year. Entomologists estimate bed bugs feed weekly, and prefer human hosts, but will also feed on family pets. They can survive three to four months without nourishment, but need to feed between each molt.
SIGNS OF A BED BUG INFESTATION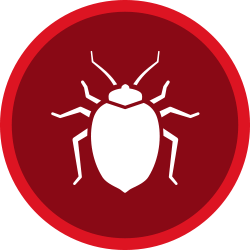 Bed bugs are extremely good at hiding, but will leave several signs behind. The most obvious and easiest way to identify is the insect itself. Bed bugs come in many different sizes, some much easier to see than others. Bed bug eggs can also be seen, but they are extremely small, and often go undetected by even the trained professional. Bed bugs shed their skin much like snakes, and these skins can be found near the bugs themselves.
Small rust colored spots on mattresses and bedding is a tell-tale sign of a bed bug infestation. These rust colored spots are bed bug feces. Most people will also see bed bug bites somewhere on their bodies, although it is virtually impossible to distinguish a bed bug bite from that of another insect. Two people could be sleeping side by side in an infested bed—both being bitten—and have completely different reactions to the bites. Some people will have no visible reaction to a bed bug bite, and others may have extreme reactions.
If you think you are experiencing a bed bug infestation, contact us today!
WE OFFER SAME DAY GUARANTEE!
We understand that your needs can be urgent. Our goal is to provide you with a pest-free home or business as quickly as possible. Call before noon Monday – Friday and a Sentinel professional will be at your door the SAME DAY!
Have any pest related questions or in need of pest control services?
Our office staff is trained to answer any pest control related questions! Once scheduled with us, an appointment confirmation will be emailed within 15 minutes with your appointment information and a picture of your technician!
Auburn, WA
Bainbridge Island, WA
Bellevue, WA
Bonney Lake, WA
Bremerton, WA
Burien, WA
Centralia, WA
Des Moines, WA
DuPont, WA
Everett, WA
Federal Way, WA
Gig Harbor, WA
Graham, WA
Kent, WA
Lacey, WA
Lakewood, WA
Olympia, WA
Parkland, WA
Port Orchard, WA
Puyallup, WA
Renton, WA
Sea-Tac, WA
Seattle, WA
Silverdale, WA
Tacoma, WA
Tukwila, WA
Tumwater, WA
University Place, WA
Vashon-Maury, WA