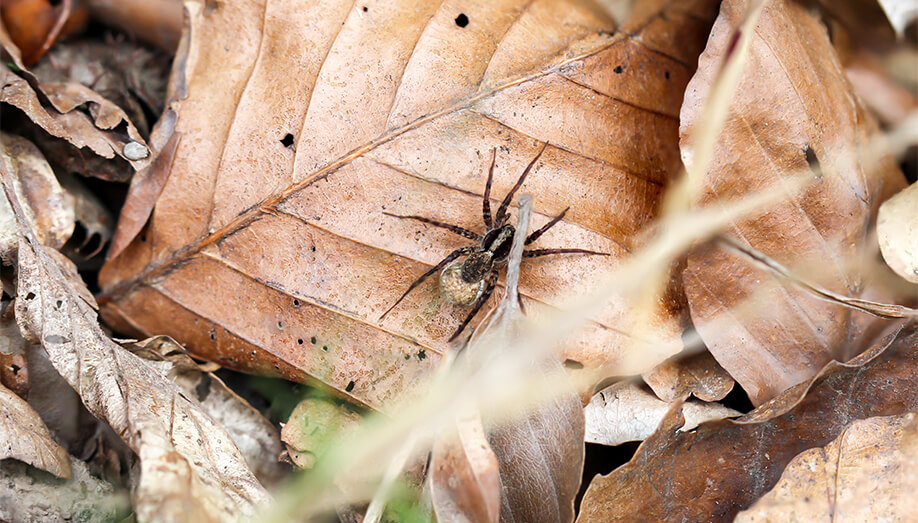 Fall foliage in the Pacific Northwest is rich and vibrant, with breathtaking hues of orange, red, and yellow intermingled with evergreens. As the leaves are changing colors, the temperature begins to decrease, and the weather becomes wetter than in the summer months.
Some pests become less active during the fall. As the days become cooler, they begin to seek an overwintering site, and look towards your nice warm home or business. While some pests are becoming less active, others are seeking out the refuge of your structure from the change in climate.
The following is a list of common pests with continued activity and presence during the fall:
Rodents
Rodents like to make their way into homes in the fall in search of shelter from the cooler weather. They can enter through broken vent screens, gaps in siding, entry points for wires and pipes, faulty crawlspace covers, or even chew through siding to gain entry into your crawlspace and underbelly of your home.
Once inside, they can continue to chomp through insulation, ducting, wires, flooring, piping, walls, and ultimately penetrate the interior of your home, making their nests within walls, attics, crawlspaces and/or basements. Other damages can come in the form of rising heating bills, electrical fires, ruined furniture and vehicles, or flooding from chewed-through plumbing. The damage rodents can cause by gnawing on materials from your home—coupled with the urine stains and rodent droppings deposited on insulation and wood—can be costly if not dealt with right away.
Along with the structural damage they cause, rodents can carry diseases such as salmonella, listeria, leptospirosis, lymphocytic choriomeningitis, hantavirus pulmonary syndrome, or plague. Plague is actually caused by contact from flea bites; the fleas contract the bacteria from infected rodents, and then bite humans as well as dogs and cats.
A few signs which may indicate your home could have a rodent infestation include:
Scurrying or scratching noises at night inside the walls or ceiling
Droppings or urine stains in the attic or crawlspace insulation
Nests inside the insulation
Pets scratching/staring at vents or underneath appliances
Spiders
One common misconception is the idea that spiders move indoors to infest your home during the transition from summer to autumn due to falling temperatures and food scarcity. But only a few species are generally found within homes and considered to be house spiders.
So why does it seem that spiders have made a pilgrimage into your home in autumn? Because most spiders' breeding seasons correspond with the late summer/early autumn months. What you are likely observing is a male searching for a mate.
Here are some easy ways to help prevent a spider infestation in your home this fall:
Remove any spider webs that you find in your shed or garage.
Keep any woodpiles outside, and check them for spiders before bringing them inside your home.
Wear long-sleeved shirts and pants when you are accessing any wooded areas or clearing out any areas with potential spider activity.
Remove any clutter from around or inside the home.
Eliminate small cracks and openings to your home with a sealant.
Make sure all doors and windows are snug fitting.
If a spider is on you, brush it off of you. (Don't crush it, or you'll increase the chance of its fangs piercing your skin!)
Have your home treated regularly by a pest professional.
Spiders are not normally aggressive, although they can bite if they feel threatened or are accidentally disturbed. Most house spider bites are not deadly, and will likely only cause moderate discomfort.
However, if you have young children, family members with poor health, or elderly family members, you may want to consider calling a professional to help keep the spiders out of your home; they are more likely to develop a severe reaction from a spider bite.
Boxelder Bugs and Stink Bugs
Boxelder bugs and stink bugs are notorious for invading homes in the fall, as they seek a warm, cozy spot to hunker down for the winter. They begin to seek out sources of heat as the days become colder, and are attracted to the warmth coming from the cracks and crevices of your home, trying to take up residence within your wall voids.
Neither boxelder bugs nor stink bugs cause harm to humans. Boxelder bugs are not known to bite, but they can occasionally puncture skin, causing a slight irritation and producing a red spot similar to a mosquito bite. When squashed, the boxelder bug can deposit a reddish orange dye which can stain carpets, clothing, curtains, walls, etc. The stink bug gets its name from the putrid scent it emits when disturbed or crushed. Use care if you attempt to capture and/or remove them from your home.
If boxelder bugs or stink bugs have already entered your home, use a vacuum cleaner with a hose attachment to remove them. Then dispose of the bag immediately once finished to prevent odor and escape.
Potential Hazard to Pets:
Does your dog or cat act as your home's pest patrol? If you have a fur baby who likes trying to catch bugs, be wary if you have noticed any stink bugs around or inside of your home. Stink bugs aren't poisonous, but their odorous secretions can irritate the gastrointestinal tract of dogs and cats if they catch and eat one. This irritation may produce symptoms of excessive drooling and/or vomiting. If you notice any of these symptoms, contact your veterinarian.
Ants
Like other pests, ants are attracted to the warm air emitted from your home, and migrate inside during the cooler months. They are temperature-dependent in order to thrive, and require temperatures of approximately 40°F to flourish. Additionally, ants are enticed by high moisture areas, as well as food debris they locate within your home on floors, countertops, in pet food dishes, or any area of your home you may leave crumbs or remnants.
Ants are able to set up nests inside wall voids, doors, window frames, floors, cabinets, etc. Carpenter ants are the most destructive, and cause structural damage by hollowing out wood from your home.
How to Prepare for Fall Pests
Prevention is your best line of defense for keeping pests out of your home during the fall. Protect your home and surrounding areas by finding and closing up any access points pests can utilize for entry into your home. Remember: they can get through astonishingly small cracks and holes.
Here are some suggestions to help prevent the intrusion of pests into your home:
Seal holes, crevices, and cracks in the caulking around windows, doors, siding, utility pipes, attic fans, dormers, behind chimneys, underneath the wood fascia, and other openings with a good quality silicone or silicone-latex caulk
Repair or replace damaged screens on windows or doors
Install door sweeps to all exterior entrances
Switch outdoor lighting to LED bulbs, as they emit almost no UV light or heat, making them less attractive to bugs
Fix water leaks, and ensure gutters and downspouts direct rain away from your home
Keep things clean by sealing foods in containers and/or placing them inside the refrigerator
Keep vegetation from growing against your home
Trim tree branches back and away from your structure
By safeguarding your home against pests, you can help to prevent a pest invasion. However, if an infestation has already developed inside your home or office, it can be difficult to gain back control. Consider contacting Sentinel Pest Control to schedule a free initial inspection to assess and evaluate the infestation and to discuss treatment options.