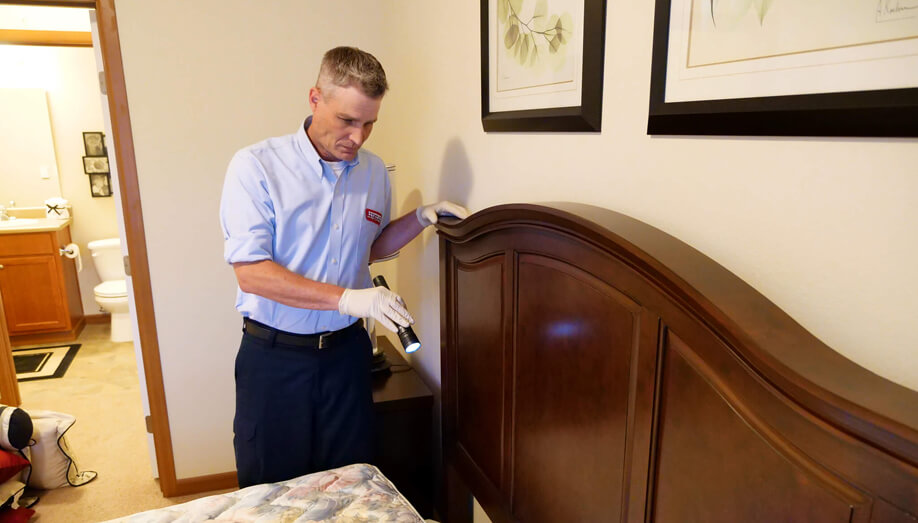 Ten years ago, bed bugs were just creepy crawly bugs that we sang songs and heard stories about. Now they're our new reality. Bed bugs are parasitic insects that feed on our blood, and spread by latching onto a host or hitchhiking in luggage. We want to help you avoid bringing bed bugs home when you vacation or travel for business.
These seven tips will give you the knowledge and piece of mind when traveling so you can enjoy your vacation or focus on work without worrying about getting bit or bringing unwanted guests home.
Do your homework before traveling
Try to find out if your hotel or overnight accommodation has ever had a bed bug infestation.  Consider making other arrangements if they have. Word of mouth and online searches are both great ways to do some research. www.bedbugregistry.com is a fabulous forum to share about your bed bug experience and learn about hot spots to avoid when traveling.
Pack your bags with bed bug prevention in mind
Hard-shelled luggage has far fewer nooks, crannies, folds, and seams for bed bugs to hide in. Don't discard your suitcases and other luggage if they aren't hard-shelled, but consider this next time you're in the market for new luggage.
Place your clothing and toiletries in re-sealable plastic bags. It's far more difficult for bed bugs to latch on or hide in your things when they are sealed in plastic. For those of you that are really worried, your suitcase can also be wrapped in a plastic bag!
Ask the hotel staff about bed bugs
It is not unreasonable to ask the front desk if they currently have a bed bug infestation or have recently had one.  In either case, ask to be placed as far away from the infested rooms as possible.  I have even asked to see the hotel's pest control log book.  Most establishments will have a log book that details what rooms where treated, when they were treated and for what.  This may be especially important for those of you that have any chemical allergies or sensitivities.
Leave your luggage at the door and inspect the room
Now that you've checked in at the front desk, it's time to make your way to your room. Leave your luggage by the door, and thoroughly inspect the room for evidence of bed bugs and/or a bed bug treatment. You're not a professional exterminator, but you can certainly inspect like the pros do. The only thing you'll need is a good flashlight and a bit of curiosity.
What to Look For When Inspecting for Bed Bugs:
Live or dead bed bugs
Bed bug skins that have been shed (they shed skin like snakes do)
Bed bug eggs
Bed bug fecal pellets and stains
Chemical dust applications
Where to Look for Signs of Bed Bug Activity:
Headboard of the bed
Mattress and box spring
Bed frame
Bedding
Sofas and other upholstered furniture
Behind wall decorations – pictures, etc.
As a pest management professional with almost 20 years of experience, I always start my bed bug inspections in the most likely place to find bed bugs… the bed! With flashlight in hand, the sheets are slowly pulled back one layer at a time paying special attention to any folds or creases.
Once I've gone through each layer of bedding, I will pull the sheets back completely to expose the mattress and box spring. Pay close attention to the tufts of the mattress and folds in the box spring as they are extremely common places to find any evidence of bed bugs.
After looking at the mattress and box spring, the bed frame and headboard is my next stop.  Here you may also find evidence of a past bed bug treatment in the form of a white powder or dust. If no evidence is found on the bed, I will move to the sofa and other furniture closest to the bed, giving priority to folds, cracks, crevices, and seams.
If any evidence of bed bugs or a bed bug treatment is found, request to be moved or leave the establishment altogether. If you opt to stay, don't settle for an adjacent room, move as far away from that room as possible.
Don't put your luggage on the bed or furniture
It's best to use the luggage rack that is supplied by the hotel. Also, do not unpack your luggage and place items into dressers and closets, giving bed bugs a prime opportunity to hitch a ride.  Live out of your suitcase.
Immediately launder your clothing
As soon as you get home from your vacation or business trip, make the laundry room your first stop. Unpack all your clothing and wash them in hot water, ensuring that no bed bugs or their eggs make it into your home.
Double check your suitcase
While still in the laundry room, inspect your suitcase and other luggage items. Remember that thorough check you did of the hotel room before moving in? Do it for to your luggage! You can also vacuum your luggage, focusing on seams and creases, just in case you missed something.
As bed bugs are quickly becoming an epidemic, we hope to help by arming the public with useful information. These seven tips will help you avoid getting bed bugs when traveling. If you have any questions or are interested in learning more, contact a professional exterminator! If you live in Tacoma, Seattle, Puyallup,  or anywhere in the Puget Sound area and find yourself infested with bed bugs, Sentinel Pest Control is the area's premier bed bug exterminator.