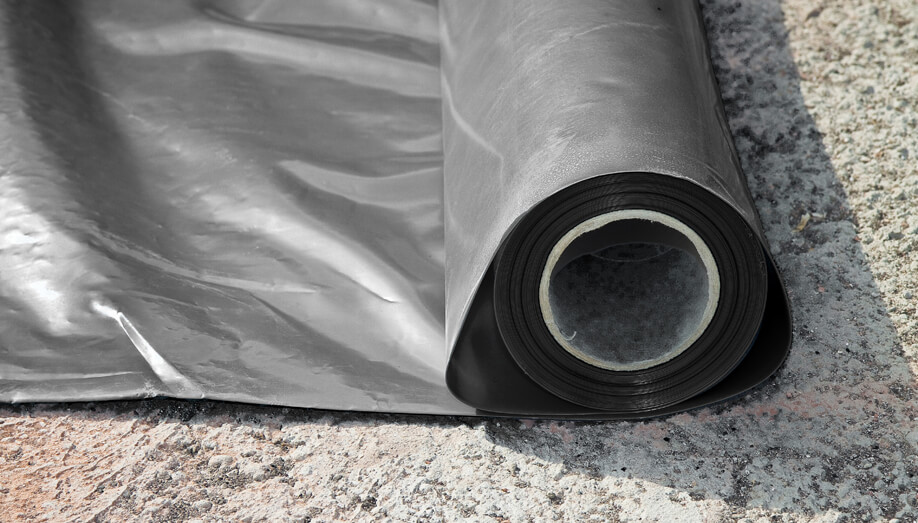 Sentinel has been in the crawl space restoration industry for decades, and is the most experienced local company in regards to removing and replacing the vapor barrier in your crawl space.
We have answers to many of the common questions we get about vapor barriers, such as:
Why should I remove and replace the vapor barrier under my home?
Is a vapor barrier necessary in my crawl space?
How much does it cost to replace my vapor barrier?
What are the benefits of having a new properly installed vapor barrier?
What does the removal and replacement process look like?
Whether you're looking to do it yourself, wanting to hire a professional, or simply researching the topic, we're here to be a resource for you.
Do I really need a vapor barrier in the crawl space?
Don't neglect the under portion of your house! If protecting your home and family is a priority, then a black 6mm vapor barrier achieving 100% soil coverage is absolutely necessary in your crawl space.
A vapor barrier protects a structure from moisture damage, mold, insect and rodent infestation, harmful gases (like methane and radon), and increases energy efficiency. As 40% of the air circulating through your home is pulled from the crawl space, a clean vapor barrier will help maintain healthy air for your family to breathe.
Many respiratory issues in children can be directly linked to the air that is being breathed in the home, so the importance of ensuring a properly installed sanitary vapor barrier can't be overstated.
Why would the vapor barrier need to be replaced?
The plastic under your home serves multiple purposes and has many benefits. There are, however, a few reasons that may require replacement of an existing vapor barrier.
Outdated protection
Years ago, builders used to install clear plastic under homes and other structures as protection. Through research and testing, top experts have determined clear plastic is not optimal, as it exposes the soil to sunlight and can be conducive for plant growth under your home. If your home has a clear vapor barrier, consider replacing it with a black 6mm one.
Damage to the vapor barrier
In order for your vapor barrier to perform at its best, it is necessary for it to achieve 100% soil coverage. Any rips or tears will reduce effectiveness, and potentially leave your home and family at risk.
Small rips and other intrusions can sometimes be patched, but beyond small spots of exposed soil, we recommend installing a new black 6mm vapor barrier throughout the crawl space.
Rodent infestation
A severe rodent infestation can be cause for removal and replacement of your home's vapor barrier. Rats and mice urinate and defecate on a frequent basis, and eighty percent of this fecal matter ends up on top of your vapor barrier, exposing you and your family to diseases and various harmful pathogens.
In addition, the strong odor of urine and feces acts as a beacon to other rodents, signifying a safe and viable place to nest. On some occasions, it becomes necessary to remove and replace both the vapor barrier and sub-floor insulation to eradicate a rodent infestation and to decontaminate the area.
How much does it cost to remove and replace my vapor barrier?
There's a lot of variables that go into figuring out the cost of replacing a vapor barrier.
Do-it-yourself
If you are a DIYer, the cost could be extremely minimal. A single roll of black 6mm vapor barrier (10×100) covering 1,000 square feet will cost approximately $70.00 at one of the big hardware stores. As most crawl spaces will require two rolls for completion, it could cost a DIYer as little as $140.00 for the materials (stakes for securing the vapor barrier to the soil will also be needed, but the cost is not significant).
Some protective gear for yourself—like gloves and coveralls—is highly recommended, and a good quality respirator is almost mandatory. Dust and other pathogens are abundant in a crawl space, and can be dangerous if inhaled.
There are also disposal fees to consider if you are removing an existing vapor barrier. Our local dump has a minimum charge of $36.00, and that's about what you should expect to pay for disposal.
The tools required are also pretty straightforward: a hammer, razor knife or scissors, and a bright light should be all you'll need to get the job done perfectly.
(If you'd like some advice on installation, give Sentinel a call—and we'd be happy to give you some direction on how to proceed!)
Professional service
Many of us, however, don't have the time, know-how, or desire to crawl around in an unsafe rodent-infested environment to do the work ourselves. This is where hiring a professional comes in! If you are preparing your budget to hire the pros, the average cost for removal and replacement of a vapor barrier is approximately $0.50 per square foot from start to finish.
What does the process look like if you hire Sentinel to complete the project for you?
Step one is a thorough inspection of the crawl space. Your Sentinel professional will come out to your home or business at a time most convenient for you and complete a comprehensive inspection of your crawl space for free. We will then give you a proposal that is tailored to your unique situation.
Upon approval, the work begins. First, the interior of your home or business is prepared by protecting it from the items that are going to be taken out of the crawl space. Plastic is used to cover your floors and anything else that is deemed necessary to ensure things stay clean.
Once the interior is ready, the removal of the vapor barrier can begin. The vapor barrier is bagged inside the crawl space and then transported through the home and loaded into a truck or trailer.
The crawl space is then ready to have a new black 6mm vapor barrier installed. Our technicians will carefully lay the vapor barrier out, making certain to cover every inch of exposed soil—overlapping each seam by a minimum of 12 inches—and strategically staking down the vapor barrier in order to secure it from shuffling or crumpling.
Once installed, our technicians will leave your home as if they were never there, and a service notification detailing the job will be emailed to you.
Regardless of the direction you would like to go, we hope you'll continue to find Sentinel Pest Control a valuable resource. Let us help you keep your family and home protected!