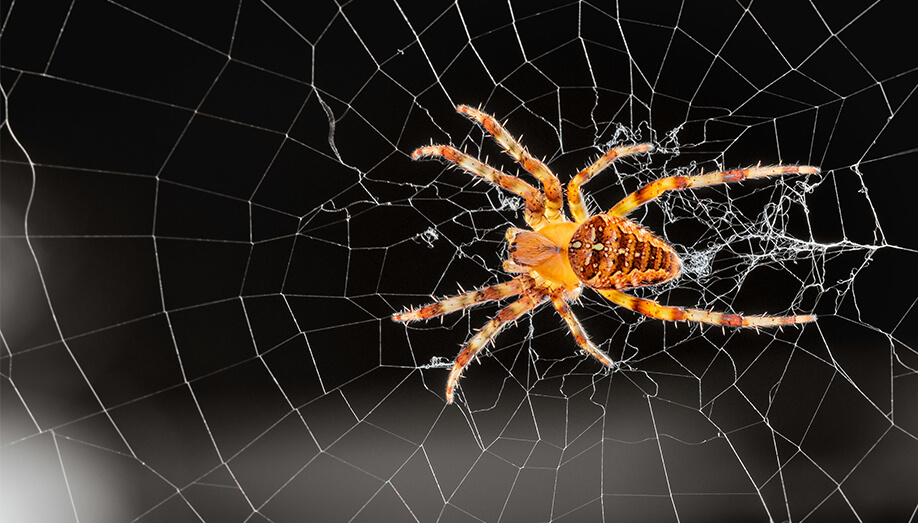 If you are not fond of itsy-bitsy spiders running up your waterspout, making webs in and around your home, or scurrying from one dark corner to another, it's time to decide how to go about controlling them.
Do you do it yourself, or hire a professional?
Do-It-Yourself Spider Control
Fortunately, you have options when it comes to battling a spider infestation yourself. It is possible to reduce spiders from around your home by following our recommendations.
Here are several tips you can implement yourself to help prevent spiders and other pests from accessing your home:
Control Access Points
Prevention is your best line of defense. Frequently inspect the exterior of your home to locate and close any potential access points which spiders can use to enter your home:
Seal cracks and crevices with a good quality sealant
Ensure door sweeps are installed on all exterior entrances
Make sure all doors and windows are snug fitting
Repair or replace any damaged screens
Control the Food Source
Spiders are considered a "beneficial" pest, since their primary food is insects. They tend to follow their prey to high insect activity areas.
Remove their food source by keeping your home clean and tidy to avoid attracting both insects and spiders. Consider:
Eliminating clutter from your yard, crawlspace, home, garage, and shed
Keep vegetation from growing against your home
Keep woodpiles outside, and check them for insects before bringing them inside
Switch outdoor lighting to LED bulbs, as they emit almost no UV light or heat, making them less attractive to bugs
Try some DIY Pest Control Products
There are several types of products on the market which may assist the DIYer in controlling their home environment.
Most home improvement and big box stores will carry a variety of insect repellent home treatments that can help keep some of those insect food sources away. None of these will be as effective as a professional application, but they may help to an extent.
Many spiders' breeding seasons correspond with the late summer and early autumn months. This is when a lot of people start to see them scurrying about or notice more webs around their homes. If free Halloween decorations don't interest you, purchase a cobweb duster and remove the webs and egg sacs from around your home on a regular basis. Doing this discourages the spiders from resetting their webs.
Utilize insect monitors (aka glue boards) by placing them in inconspicuous, out-of-the-way places to capture spiders and to get a general idea of the level of infestation you may be experiencing.
Some people have questioned the effectiveness of electronic devices to deter spiders and other pests. Currently, there is no published scientific data confirming the claims that these devices actually help. We recommend doing thorough research before investing in any of these gadgets.
Benefits of Professional Spider Control
Licensed pest professionals have access to better tools, products, chemicals, etc. than the typical homeowner can obtain.
After initial inspection of your home, your licensed professional will provide a detailed treatment plan and any recommendations based upon the unique specifics of each structure and property along with a quote for service. They are able to identify spider types, as well as inform you if your infestation is secondary to an insect infestation. Regular on-going maintenance programs will drastically reduce an insect population and drive spiders elsewhere.
Implementing some or all of our recommendations can help to prevent or reduce a spider infiltration. However, if you're unable to do it yourself, or you would rather consult a professional, consider contacting Sentinel Pest Control to schedule a free initial inspection to assess and evaluate your home and to discuss treatment options.