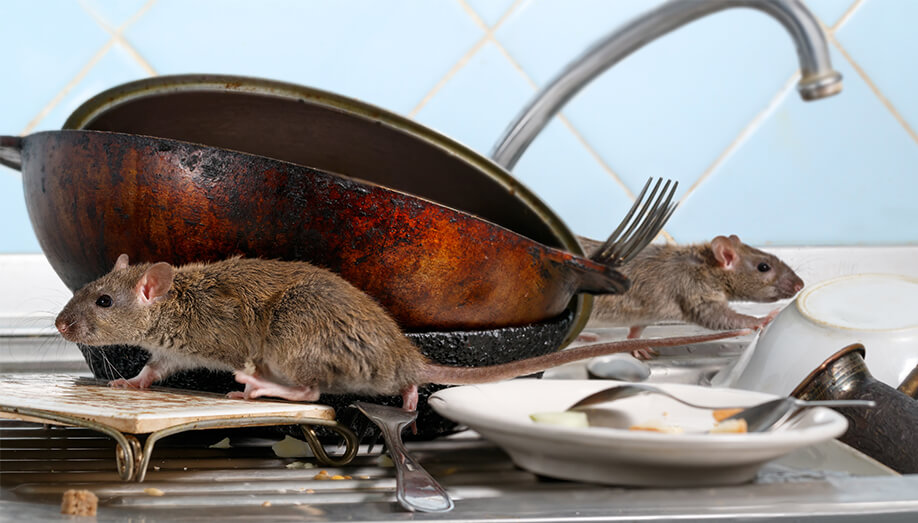 It's important for all employees of a commercial kitchen, restaurant, school, or other eatery to make sure that food presented to consumers is prepared and served in a very clean environment. Pests in the kitchen pose a major risk to public health and your business.
The Washington State Department of Health's Food Safety Program requires stringent sanitation and hygiene standards of these types of kitchens in order to help protect public health. Food safety legislation mandates these establishments take necessary measures to prevent all insects and pests. Without implementing these high standards of sanitation and hygiene practices, these facilities would be overrun by a number of nuisance pests.
Common Commercial Kitchen Pests
Ants, cockroaches, flies, and rodents are the four most common pests that threaten commercial kitchens and eateries. All are all known to contribute to the spread of disease, and be hazardous to the health of consumers.
As rodents run between their food source and nest, they run across dishes, pans, countertops, sinks, cutting boards, etc. leaving droppings and bacteria which can cause a variety of issues (i.e. asthma symptoms, E. coli, Salmonella). Roaches follow the same pattern as rodents, running across all manner of kitchen equipment and depositing a trail of feces and bacteria along the path between food sources and their hiding places. A fly can carry bacteria back and forth between all the places it lands. Ants are capable of spreading foodborne disease organisms including E. coli, Salmonella, and Shigella by transferring diseases picked up on their bodies after crawling on feces and decaying matter while foraging for food and moisture.
These pests can take advantage of any food or water sources within a commercial kitchen or eatery. Illnesses can then be easily transferred to consumers by kitchen staff using contaminated kitchen utensils, dishes, pots, pans, countertops, etc.
Mentioned sightings or pictures of any of these pests within your establishment by your consumers can quickly go viral, lead to poor reviews, or lower your food safety rating, and therefore be detrimental to your company and jeopardize your reputation.
Rodents
Rats and mice are primarily nocturnal, and are excellent climbers. Because rodents do not have a collarbone, they can squeeze themselves into extremely small openings to enter your building. Inside a facility, nests can be found in storage boxes, wall voids, attics, roofs, crawlspaces, basements, and sewers.
Rodents are attracted to certain common conditions of commercial kitchens, including:
Warmth
Plentiful stock of food and water
Poor sanitation/food debris
Wide variety of locations for nesting and reproduction
Rodents can impact kitchens with a number of potential hazards and threats, such as:
Urine and feces can contaminate food and water.
Transmission of diseases/food-borne illnesses. Rodents are capable of spreading over 100 dangerous pathogens. A few of which are the Hantavirus Pulmonary Syndrome, Leptospirosis, and Salmonella.
Carry smaller pests (fleas, mites, ticks, lice, etc.) which also carry disease.
Considerable damage to building, equipment, and food containers by gnawing.
Will quickly deplete your stock of food.
The most common rodents found in Pacific Northwest kitchens are:
Norway Rats
Norway rats are the largest rodent; they can grow quite long, up to 17 inches in length including their tails. Norway rats have blunt noses with small ears and eyes, and brown bodies with a lighter-colored underside. They are very cautious and will often shy away from new objects and changes in their environment. They will eat most anything, and are attracted to garbage.
Roof Rats
Roof rats are smaller and slimmer than Norway rats, with a longer tail, bigger ears, and pointed nose, and are dark brown or black in color. Some are very cautious, and though they constantly explore their surroundings, they tend to shy away from new objects or changes in their environment. They feed at dusk and prior to dawn but will forage in groups throughout the day.
Deer Mice
Deer mice bodies grow up to four inches in length, and have tail length ranges between 2-5 inches. They have darker fur on top with light underbellies, fur-covered ears, and black eyes. Deer mice are usually found in rural and suburban areas. These mice are the primary carriers of the hantavirus pulmonary syndrome (HPS).
White-Footed Mice
White-footed mice are similar in appearance to the deer mouse, averaging approximately six inches in length including their tails. They also have darker fur on top, with lighter coloring on their underbellies/ feet, and have large ears and bicolored tails.
Cockroaches
The most common cockroach found in Pacific Northwest kitchens is the German cockroach. Their small size allows them to hide in cracks and crevices near a source of food and water. While they can be found throughout a structure, they are more commonly found in kitchens and bathrooms. Cockroach infestations are often introduced from paper products or packaging such as cardboard.
Here are some conducive conditions found in kitchens which attract cockroaches:
Warmth (70 degrees)
Humidity
Excess moisture
Poor sanitation/food debris
Threats and hazards posed by cockroaches in the kitchen:
Transfer of disease-causing bacteria including dysentery, salmonella and E. coli, as well as parasitic worms
Droppings leave small, dark stains or smears and they secrete an odorous, "musty" compound
Fecal matter can be transferred to food, kitchens, and dining areas
Droppings and skin sheds are known to trigger asthma attacks (especially in children)
Flies
The most common flies found in commercial kitchens are as follows:
Fruit flies (or vinegar flies) are tiny and red-eyed. They are attracted to the fermenting odors of over-ripened fruit and vegetables.
House flies are drawn to food odors, garbage, and decaying matter. They are commonly found congregating around garbage cans and dumpsters. However, they will rest on food and preparation surfaces making them at risk of contamination.
Drain flies are small, moth-looking and closely related to the fruit fly. They are attracted to decayed organic matter and more commonly found in or around drains and under cabinets and dirty floor mats.
Phorid flies are small flies found loitering around your grease traps where they also like to breed. These flies feed on decaying matter.
Examples of conducive conditions which attract flies include:
Poor sanitation
Food odors
Decaying or rotting food
Uncovered trash receptacles
Flies can be hazardous to a kitchen in several ways:
Flies can carry and transfer over 100 harmful diseases like dysentery, Listeria, Salmonella, Tuberculosis and more
They spread disease by feeding on trash, feces, and other decaying material, and then contaminating food prep areas and other surfaces
Ants
Odorous house ants (OHAs or sugar ants) are the most common ant found in Pacific Northwest kitchens. They tend to build their nests near a moisture source, such as around water pipes, sinks, water fountains, beneath toilets with leaking seals, etc. They can be a challenge to control due to having multiple queens, and if not treated properly, can break up into multiple colonies and nests within your establishment.
Conditions found in commercial kitchens which contribute to attracting ants are:
Sticky or sugary food items (their preferred type of food source)
Excess moisture
Grease
Improperly stored food
Uncovered trash receptacles
Threats and hazards posed by ants:
Food contamination
Can carry and spread bacteria
How to Prevent a Kitchen Pest Infestation
To reduce the chances of an infestation, it is important to do everything possible to keep these pests from being drawn to your commercial kitchen or facility. Here is a list of several ways to help ensure pests do not find a welcoming environment within your commercial kitchen:
Implement strict hygiene and sanitation practices
Regularly clean/sanitize countertops, sinks, prep stations, storage areas, cooking stations, and cookware
Remove all clutter from kitchen (boxes, stacked food containers, etc.)
Regularly clean all floor and sink drains (screens can help mitigate waste accumulation)
Place hard to move equipment on rollers to make it easier to clean around them
Regularly clean all ventilation screens
Dispose of food waste promptly in a dumpster away from the entrance to the kitchen or restaurant, and ensure it is emptied regularly
Make sure all garbage and waste receptacles are tightly covered and emptied frequently
Store food in pest-proof sealed storage containers that cannot be chewed through
Replace cracked tiles and seal gaps around any fixtures or pipes to eliminate entrance points
Limit water sources by making sure there is no standing water, leaking pipes, or dripping faucets
Keep doors and windows closed when not in use (those which are open should have screens to help keep pests out, or utilize an air curtain to deter flying insects)
Ensure exterior doors are affixed with a door sweep
Inspect deliveries for decaying or rotting items; immediately remove and dispose of any such items
Use a fan for strong air movement to help prevent flies from landing on produce, exposed foods, or surfaces
If a pest problem has gotten out of hand in your commercial kitchen, call Sentinel Pest Control to schedule a free inspection and discuss a comprehensive pest management program!