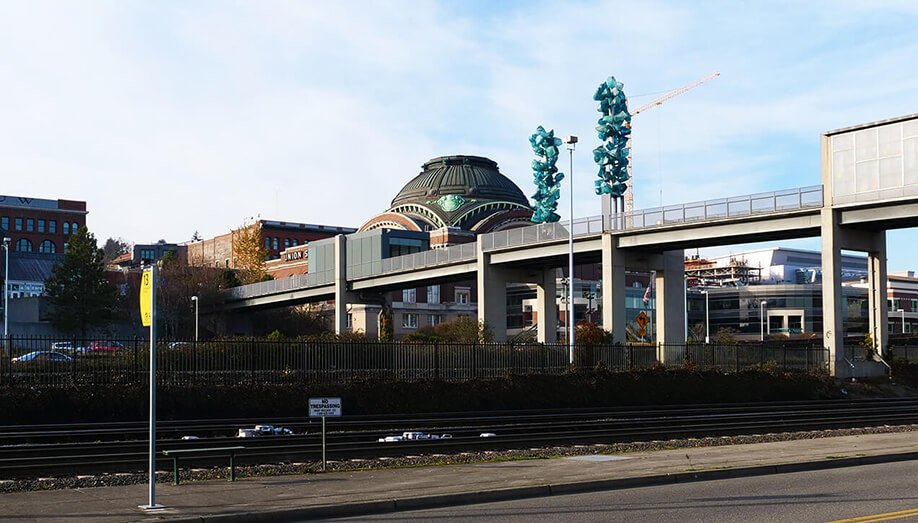 Tacoma, Washington is a vibrant, diverse city with tons of options for recreation, entertainment, and culture. Some of us here at Sentinel Pest Control currently call Tacoma home or have lived there previously and have loads of great tips to share.
Nervous or worried about a move to Tacoma? Examine our Homeowner's Guide to get tons of great insider information and tips from Sentinel Pest Control! We can help make your move less stressful, and give you what you need to know in order to have a successful move to your new home in the City of Destiny. We have included helpful information about:
The best service professionals
The best restaurants
Fun things to do in and around the city
How to get around Tacoma
Tips for a stress-free move
Homeowner's Resources
Moving can be exciting, but it can also be extremely stressful. Our resources can help make your purchase a more calm and peaceful experience.
Real Estate Agents
Finding the right real estate agent can be difficult. How do you wade through all the advertising and marketing to find an experienced, quality agent who will walk you through the home-buying process? Some of the professional associations we recommend are:
Utility Companies
Before you've moved into your new home, you are going to want to get your utilities set up. Here is a list of the utility companies you will want to contact:
Home Service Companies
The service companies listed below are ready and willing to help you make informed, educated decisions for your home.
Cable: Click! Cable TV, DirectTV, Xfinity
Electrician: Hertz Electric, UpRight Electrical Services, Vets Electric Company
HVAC: Mercurio's Heating & Air Conditioning, Serenity Air, Taylor Heating & A/C
Pest Control: Sentinel Pest Control 😊
Plumber: All Purpose Plumbing, Harts Services, Hunt's Services
Homeowner Tips
With forests full of evergreen trees and the verdant shrubbery and grasses throughout the year, the Pacific Northwest is well-known for its gorgeous green hues.
The Tacoma and surrounding areas get a lot of precipitation. Due to its wet climate and location next to the Puget Sound, household pests (including ants, termites, rats, and mice) are common. If you notice any pests in or around your home, call Sentinel Pest Control for a free inspection.
Make sure when you are purchasing your new home your inspector looks closely for signs of insect damage, moisture damage, and other serious issues before finalizing your purchase.
A moist climate translates to potentially not needing to water your lawn or garden as often. Talk to your local greenhouse nursery or lawn care professional about a watering schedule for your yard and garden.
Moving Resources
Moving can be a stressful, apprehensive experience even if the move represents a positive change. Tacoma has a great deal of resources to get you settled in quickly, so you can begin enjoying your new home and neighborhood.
Moving Companies
The list of things to complete when moving can seem daunting. Thankfully, Tacoma has some top-rated moving companies that can help out.
Moving Tips and Strategies for Success
Research the new city and neighborhood. It's normal to worry about the unfamiliar. Before you leave, learn about your new home through websites, people or groups who know the area, books, or even maps.
Create and use a support system. Ask for assistance when you need it from family or friends. An extra set of hands can greatly reduce stress, and be an enormous help in an otherwise overwhelming task.
Give yourself plenty of time. Don't procrastinate; start a few weeks prior to your move date. Begin with packing rarely used items (e.g. books, movies, art work, pictures, items in your attic, garage, or shed which are not already in boxes).
Stay organized. Consider using color-coded labels for each room. Write the room it belongs in on the top and 2 sides of a box with a general description of the contents. Have donation and trash boxes ready.
Get your home inspected for pests. A professional pest inspection of your new home can help protect your investment and your family. Our experienced inspectors at Sentinel Pest Control offer a free initial inspection and will do a thorough examination of your home for pests.
Local Information
Which are the safest neighborhoods? Where are the schools located? Where is the grocery store? Check out our listing of Tacoma's local information below.
Best Tacoma Neighborhoods to Live in
Labeling a best neighborhood is dependent on what you are looking for as a home. Factors to consider are safety, cost of living, appeal/aesthetics, and recreational opportunities. The City of Tacoma has established 8 neighborhood zones. The following includes information on each area.
Central Tacoma: Trendy, hip, and fresh are all quality adjectives for the Central Tacoma neighborhood. Here you will find a main vein to entertainment in Tacoma on 6th Avenue.Besides being minutes from downtown Tacoma or the freeways, other features of the Central Tacoma neighborhood are the 6th Ave Farmers Market in the summer, neighborhood art and murals such as Art on the Ave, Peoples Park, Peck Athletic Complex, Tacoma Nature Center, Cheney Stadium, Allenmore Golf course, the beginning of the Scott Pierson Trail (which runs all the way to Gig Harbor), an increasing number of bike lanes, and the largest American flag in the Pacific Northwest located at the headquarters of Tacoma Screw on Center Street. Median home prices are $310,000 in this area.
Eastside: Eastside living exudes a suburban feel with all of the amenities of an urban atmosphere. Schools here are rated above average, according to niche.com. As a resident of the Eastside, enjoy views of the city, Mount Rainier, and the Tacoma Dome. Median prices on the Eastside range around $269,500.
New Tacoma: This neighborhood is less established for residential use than other parts of the city, but is up and coming with a lot of new development which is part of the reason for the designation, "New Tacoma." This neighborhood zone includes Port of Tacoma, Tacoma Dome, Downtown, Hilltop, etc. You will find Wright Park, W.W. Seymour Botanical Conservatory, Tacoma Dome, University of Washington Tacoma, Museum of Glass, Tacoma Art Museum, Washington State History Museum, Union Station, multiple restaurants, and more. The home values in the area range between $310,000 – $360,000.
Northeast Tacoma: The Blair Waterway serves as the western border of Northeast Tacoma and encases the remaining Tacoma city limits in the Northeast portion of Tacoma which is bordered by unincorporated Browns Point and Dash Points, Federal Way, and unincorporated Fife Heights and Fife. Northeast Tacoma is the most suburban and secluded neighborhood of Tacoma due to being cut off by the Port of Tacoma area from the rest of the city. If you love golfing, you can locate the Northshore Golf Course in this neighborhood. Many homes in this region enjoy spectacular views owing to the hilly terrain and tend to be expensive ranging anywhere from $300K-$1.2M.
North End: The North End encompasses several neighborhood zones like Stadium District, North Slope Historic District, Old Town, Proctor District, and University of Puget Sound. The charming older homes found here project a small-town feel. Old Town was the original Tacoma founded in 1865. These residents enjoy stunning views of Puget Sound, Browns Point, Commencement Bay, and Vashon Island. The University of Puget Sound serves as a core to the area offering events, shows, and opportunities for community involvement. You will find the popular Metropolitan Market grocery store here. Once spring arrives, you can explore the Proctor Farmers Market for local produce, plants, and other items. While out-and-about, make sure you take time to stroll by the historic and Hogwarts-like Stadium High School as well. Home values here range between $502,500 – $642,500.
South End: According to Areavibes.com, the median home cost in this neighborhood is $168,800. If you are a looking for a starter home, this may be the area for you. Some of the area amenities include Alling Park, Charlotte's Blueberry Park, Wapato Lake and Park, and public libraries.
South Tacoma: The homes in the South Tacoma area are the most affordable in Tacoma with median prices hovering around $141,900 according to niche.com. If you are buying your first home or just starting your family, you may want to consider the South Tacoma neighborhood which also conveys a suburban feel to it. MetroParks has several facilities throughout the South Tacoma neighborhood. The South Park has a community center on its grounds which hosts a myriad of classes and events. Make sure you visit to check out the park and facilities.
West End: The West End is one of the largest Neighborhood Districts. This area is primarily residential with commercial areas along Pearl Street, 6th Avenue, and Mildred. This area lays claim to some of the most remarkable views of Puget Sound, the Olympic Mountains, and Narrow's Bridge. The northern portion offers views of Seattle and Vashon Island. Located within the West End are Tacoma Community College, Point Defiance Park, Titlow Park, Highlands Golf Course, Ruston Way, and Narrows Bridge. The median home prices run around $260,500.
Schools in the Tacoma Area
With 36 elementary schools, 11 middle schools, 10 high schools in the Tacoma Public School system as well as several private schools, families have many options to find a school which is the right fit for their child(ren). Here are a few of these schools:
Elementary Schools: Arlington, Bryant, Fawcett, Jefferson
Middle Schools: Giaudrone, Jason Lee, Mason, Truman
High Schools: Lincoln, SOTA, Stadium, Wilson
Private Schools: Annie Wright Schools, Bellarmine Preparatory School, Concordia Lutheran School, Life Christian Academy
For more information about public schools, visit www.tacomaschools.org
Tacoma Area Colleges
Tacoma is home to several community, vocational, technical, and 4-year colleges. Whether you have children who are getting ready to graduate high school and are college-bound, or you are considering starting or finishing a higher education, Tacoma has many options to peruse, so you don't have to go far.
Car Dealerships
Are you considering upgrading your car after your move into your new home? Did you have to drive far, and now you have a LOT of miles on it? If you have nicknamed your car rattletrap, jalopy, beater, or Adam Sandler's "POS car" song runs through your head while behind the wheel, it may be time for a new vehicle. There are many car dealerships in Tacoma standing-by, ready to help you locate your next purchase.
Dentists and Doctors and Veterinarians – Oh my!
Tacoma hosts a whole slew of incredible medical practitioners – including those for your furry family members! Feel free to start your journey down the "yellow brick road" toward your new medical care professionals by contacting the ones we've listed here:
Grocery Stores Galore
Luckily for you, there are gobs of grocery stores close by in Tacoma. Depending on the time of year, you can even find farmers markets in several locations offering freshly picked produce. Because Tacoma is so diverse, finding specialty products is a breeze. Here are some of the stores we've utilized to find items to create our own homemade masterpieces:
Emergency Services
Who you gonna call? Not Ghostbusters. Dial 911. Everyone hopes they never need to use them, but "just in case," here is a list of emergency contacts to have on hand. These are also great resources if you are looking for some educational opportunities for your church, school, or community group.
Pierce County EMS Office 253-798-7722
Tacoma Fire Department 253-591-5740
Tacoma Police Department 253-798-4721
Tacoma's Government Information
The City of Tacoma has one main number for citizens to dial in order to request transfer to an appropriate department for their concerns. In order to reach the offices listed below, call 253-591-5000, and you will be routed applicably.
City Attorney
City Clerk
City Council
City Manager
Mayor
Public Works
Local Attractions
Tacoma has a vast amount of parks, business districts, museums, community centers, and libraries. With so much to see and do, where do we begin? Peruse our list of popular top things to do before you head out to explore your new city.
Top Things to do in Tacoma
5 Mile Drive & Trails
Cheney Stadium
Chihuly Bridge of Glass
Fort Nisqually Living History Museum
Foss Waterway Seaport
LeMay – America's Car Museum
Museum of Glass
Narrows Bridge
Owen Beach
Point Defiance Park
Point Defiance Zoo & Aquarium
Point Ruston
Stadium High School
Tacoma Art Museum
Tacoma Dome
Union Station
Washington State History Museum
Wright Park
W. Seymour Botanical Conservatory
Best Restaurants in Tacoma
It's difficult to point to a few restaurants and exclaim, "These are the ones! The best places to eat!" Everyone has different tastes and preferences. Fortunately, The City of Tacoma has numerous cafes, restaurants, diners, bars, and food trucks offering a gamut of cuisines. Tacoma can proudly boast that several of its restaurants have been featured on Food Network. Tacoma may just be named the City of Destiny for a culinary reason. A selection of our favorites is listed here:
Welcome to the Neighborhood!
We hope you have found some useful information in our Homeowner's Guide to Tacoma to help with your relocation, and that it has given you a good preview into our City of Destiny. Should you discover the need for pest control services in Tacoma, please give Sentinel Pest Control a call for your free initial inspection!