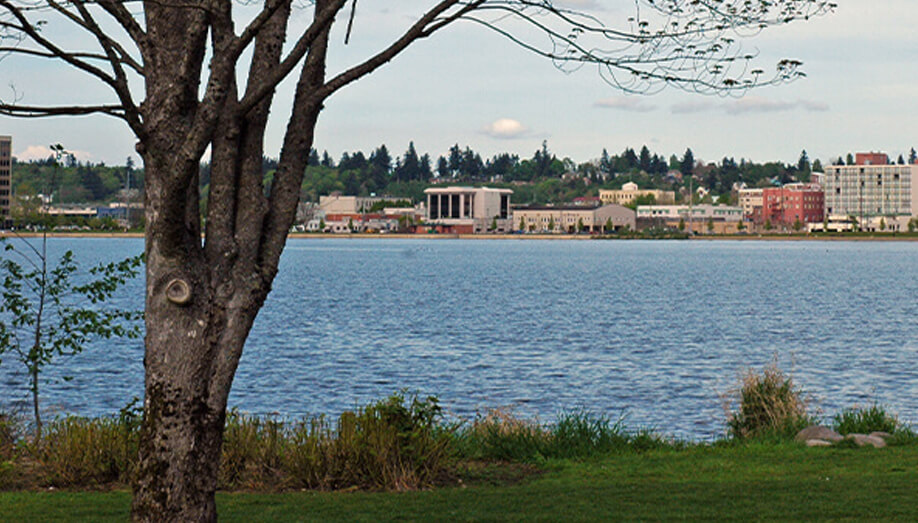 Are you planning a move to the Olympia, WA area? Check out our homeowner's guide to get lots of great insider information from the locals here at Sentinel Pest! We've got all the latest on the best restaurants, schools, parks, services, and more.
Nervous or worried about your move to Olympia? Let our homeowner's guide show you the way!
So you decided to move to Olympia, Washington.  You made a fantastic choice! Sitting in the shadow of majestic Mt. Rainier, Olympia is the perfect place to call home, raise a family or even retire.
No matter how phenomenal a place is, making the move to a new city can be overwhelming. Wouldn't it be awesome to have a comprehensive guide detailing everything you need to know about Olympia before you make the move? At Sentinel Pest Control, we are locals here–some of us have lived here our entire lives! We know just about everything there is to know about our state's capital and it is our pleasure to provide you with that valuable information and to call you our new neighbors!
This Homeowner's Guide to Olympia, WA will ensure that you know everything that you need to know in order to have a fun and successful move to your new home. Keep reading to learn more about:
The best service professionals
The best restaurants
Fun things to do in and around the city
How to get around Olympia
Tips for a stress free move
Homeowner's Guide to Olympia.  From Restaurants to your local exterminator…We have it here.
Moving To Olympia? Here's What You Need to Know!
Olympia is a wonderful place to have a home–we've been locals for decades and some of us have even lived here all our lives.  We are a bit biased, but we think Olympia, Washington is the best place in the country to live, work, and play!  Before you begin making your life here, let your friends at Sentinel Pest Control fill you in on some basics!
We've compiled a list of just about everything you would want to know.  We hope you enjoy your guide to Olympia. Welcome Home!
Homeowner's Resources
Moving to a new town is made exponentially more difficult if you have to purchase a home-but it doesn't have to be a headache.  Check out some of the resources below to help make purchasing a home in Olympia a breeze.
Real Estate Agents
Hiring the right real estate agent can make or break your home buying adventure.  Having an experienced agent guide you through the home buying process will ensure that all your needs are met and that you love your new home.  There are plenty of quality agents in the Olympia area, but we can recommend a few professionals that really standout.
Utility Companies
Once you've moved in to your new home, you're going to want hot water, heat and lights.  Check out the list of area utility companies to get you up and going.
Home-Related Companies
Now that you have the basic necessities, its time to learn about some of the service companies that will make your life in Olympia more comfortable.  The list below provides you with everything from the best cable companies to your local exterminator.  Make these companies the next on the list to call.
Homeowner Tips and Tricks
Owning a home in Washington is very different from owning a home in other parts of the country. There are a few things that you should know now that you are our neighbor.  Here are a few tips to help make sure your home ownership experience goes off without a hitch.
The Olympia area gets a lot of rain, which means you might have to change the way you take care of your lawn. Plenty of rain means that you don't need to water as frequently. Talk to your local lawn care professional about watering so you don't waste water or money.
Because of Olympia's wet climate, household pests, including rats, mice and ants, are common. Keep a watchful eye out for pests in and around your home.  Call Sentinel Pest Control for a free inspection at the first sign of a pest issue.
When purchasing your new home, it is imperative that you do not waive your right to a complete home inspection. Make sure that your inspector looks closely for signs of insect damage, moisture damage, and signs of other serious issues before you finalize your purchase.
Moving Resources
Nobody likes moving, it's never fun, but it doesn't have to be exhausting and stressful.  Here in Olympia, we have tons of resources to get you through the move and help you focus on the exciting aspects of your new home and city.  Check out your resources below!
Moving Companies
When you're moving, packing and unpacking can be the most stressful part of the entire move.  Fortunately, there are lots of moving companies here in Olympia that can help.  Here are our recommendations for local moving companies to help you out.
Moving Tips and Hints
Get rid of your extra baggage.Before you start the daunting task of packing up your things, have a garage sale and donate things you don't want or need to charity.  You might make some extra money for the road, do some good for your neighbors and have a few less things to pack and move!
Properly mark your boxes. It can be a big bummer to move into your new home and have a bunch of unmarked boxes in random places throughout the house.  Good luck finding where things are and where they go.  Be sure to pack similar items in the same box and mark them well.  It will help your movers work more quickly and also help you with the unpacking process.
Consider a babysitter and/or a pet sitter. Moving is stressful on adults.  Imagine what it could be like for little ones and pets.  When moving day rolls around, consider having somebody watch them and bring them back when the move is done.
Get your home inspected for pests. Shortly after moving in, it's a good idea to have your home inspected for pests, especially if the home's been vacant for an extended period of time.  Our experienced technicians here at Sentinel Pest Control can do a thorough inspection of your home and get rid of pests like spiders, roaches and bed bugs.  Piece of mind is priceless and our inspections are free!
Local Information
One of the most difficult aspects of starting up in a new place is knowing where to find your everyday necessities.  Where's the neighborhood grocery store?  Where should the kids go to school?  What neighborhoods should we consider moving to?  You're in luck.  Your new neighbors just made that part of the move much easier!  Check out the listing of Olympia's local information below.  You'll be a local in no time!
Best Olympia Neighborhoods to Live
One of the most challenging things to do when you move to a new place is to find a great neighborhood.  Fortunately, Olympia is one of the most amazing spots around.  We are locals to the Olympia area here at Sentinel Pest Control and know a thing or two about the top spots in town.  Check out the following communities and a brief description of each.  Which one fits you best?
South Capital Neighborhood: If you want to be close to downtown Olympia, the South Capital area is a few blocks south of the capital building and was ranked as the #1 livable neighborhood in Olympia by AreaVibes.com.  South Capital is full of old growth trees and historic craftsman style homes.  The median price range for homes is $479,900.00.
Cain Road Area:If you are looking for a newer upscale home that is close to downtown then Cain Road might be just the place for you.  Cain Road is just southeast of downtown and is made up of approximately 830 homes.  The local homeowner's association is very active in supporting the community.  Zillow has the median home value at $383,600.00 and expects that to rise by almost 4 percent over the next year.  Houses in this neighborhood can reach the $930,000.00 mark.
East Bay Drive:If you're looking for amazing water views and a smaller tight knit community, check out the East Bay Drive area.  Located just along Budd Inlet, the neighborhood association even plants oyster seeds during low tide to help maintain a flourishing ecosystem.  Homes in this area can get expensive and are in the 1.2M range.
Northwest Olympia Neighborhood: If you are a newer family just getting started and you're looking for an affordable great place to plant some roots, Northwest Olympia might be for you.  It is close to downtown, with a mere five minute walk to shops and other amenities.  The homes here were built prior to 1950, most are single level and around 1700 square feet.  Zillow lists the median home value at $293,200.00 and rising rapidly.  Values in this area have increased 12% over the last year and are predicted to increase another 6% over the next year.
Schools in the Olympia Area
For those families with children, picking a school district is often a high priority.  Rest easy, Olympia has wonderful schools with educators that care and are among the best in the nation.
Elementary Schools: Garfield, L.P. Brown, Centennial, Lincoln Options
Middle Schools: Washington, Reeves, Marshall, Jefferson
High Schools: Olympia, Capital, North Thurston
Private Schools: Olympia Christian, Evergreen Christian, Sunrise Beach
Olympia Area Colleges
Perhaps you have children that are of college age, or maybe you are considering pursuing a higher education.  Olympia has many options to choose from.
Car Dealerships
So you just got a new home.  Maybe now it's time to have a new car sitting in the driveway.  If you are ready for a new vehicle, there are tons of car dealerships in Olympia, here are a few to get you started:
Local Doctors and Veterinarians
Unfortunately you had to leave your medical professionals behind.  Not to worry!  Olympia has some of the most amazing doctors, vets and medical facilities around.  We'd like to help you get your search started.  The following is a list of the area's top medical providers:
Local Grocery Stores
Picking or even finding a grocery store once you move to Olympia may be one of the last things on your mind.  In reality, finding the grocery store that's close, has what you need, is conveniently located and affordable will make your life much much easier.  In order to make it simple we've custom made a list for you:
Emergency Services
Let's hope you never need them, but knowing how to get in touch with emergency services could be critical.  It is always better to be prepared and then never need the information than to have an emergency and not have the information.
Olympia Veterinarian Specialist
Olympia's Government Information
City Attorney
City Clerk
City Manager
Public Works
Local Attractions
It's time to start enjoying your new home and city.  Olympia has so much to offer.  We are minutes from the mountains minutes from the ocean with tons to do in between.  If you want the hustle and bustle of the city we've got it.  If you want the peace and quiet that the great outdoors can provide, we've got it.  Here are some of best and most popular things to do in Olympia.
Top Things to Do in Olympia
There's an unending list of fun and exciting things to do and see in the Olympia area.  Here are a few things you'll want to check off of your list sooner than later.
Tour the State Capital
Check out the Olympia Flight Museum
Hike the Billy Frank Jr. Nisqually National Wildlife Refuge
Enjoy the Farmer's Market
Visit the hands on Children's Museum
Explore Mima Mounds
The Best Restaurants in Olympia
You might not realize it, but people in the pest control industry see a lot of restaurants first hand.  Not just from the consumer side of things, but the folks here at Sentinel Pest Control get a behind the scenes look at all the best and worst spots.  One of the easiest ways to get quickly acquainted with a city is to taste its flavors firsthand! Olympia has a huge variety of restaurants, diners and eateries to pick from.  Here are some of our favorites.
Welcome to our Neighborhood!
We hope that our New Homeowner's Guide to Olympia, WA has helped with your transition.  Or, if you are considering the move, we trust that we've been able to give a little insight into our amazing city.  It is our pleasure to act as your personal tour guide and are happy to help however we can.  Welcome Home Neighbor!
If you are in need of Pest Control services in Olympia, give us a call!