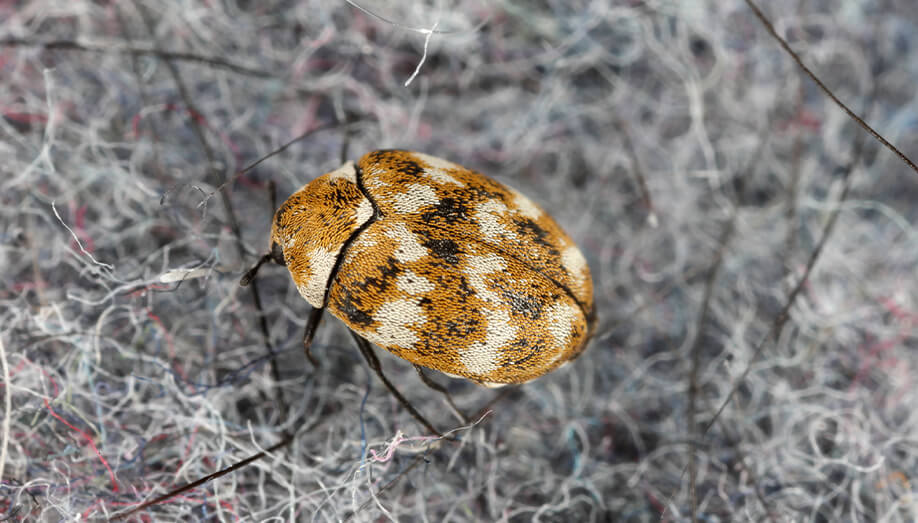 What Are Carpet Beetles?
Just as the name would indicate, carpet beetles are small insects that primarily infest carpets. In the larvae stage, carpet beetles range from 1/4" to 1/8" in length and are densely covered in fine hairs or "bristles". As adults, carpet beetles are approximately 1-4mm in length with oval-shaped shells, and can come in a variety of colors depending on sub-species.
Varied Carpet Beetles (brown and white with dark yellow spots or patches – can look similar to a lady bug but with different coloring)
Black Carpet Beetles
Common Carpet Beetles
Furniture Carpet Beetles
Carpet beetles are considered a "nuisance pest" as they do not pose any great danger to people. However, if left untreated, they can cause a lot of damage very quickly. They are also known to cause skin irritations in the form of a bumpy rash. The same hairs or bristles found on carpet beetle larvae can also cause respiratory or eye irritation when airborne.
Signs of a Carpet Beetle Infestation
The most obvious sign of carpet beetle infestation is damaged furniture or natural fabrics found in your home. Carpet beetles eat keratin, which is found in clothing, carpets, upholstered furniture, window dressings, bedding, etc. Both the larvae and adults carpet beetles eat the same diet, making these pests troublesome no matter what life-cycle they are in.
Here are some other common signs of infestation:
Damaged clothing or natural fiber textiles
Respiratory issues/asthma-like symptoms
Skin sheds from larvae
What To Do if You Suspect a Carpet Beetle Infestation
There are several things that you can do if you think you are experiencing an infestation of carpet beetles. The first of which is to inspect items made of cotton or natural fibers in your home. This can include but are not limited to cotton, wool, fur, or other organic materials.
Also, thoroughly inspect dark nooks and crannies of your home such as carpeted closets, attics, basements, or storage closets. Carpet beetles can also infest open or exposed dry goods in your pantry, so an in-depth inspection of that space is advised as well.
Treating for Carpet Beetles
The most important thing you can do in your home to preventatively treat for carpet beetles is to keep a clean environment that is free of clutter. Wiping surfaces down with a diluted vinegar solution is a great place to start. Another solution is to keep window and sliding door screens in good repair. Even the smallest home can give access to unwanted pests in your home.
For many, carpet beetles can be a difficult pest to manage. Carpet beetles are tough insects and large infestations can require professional intervention. In the event of an infestation, or if the methods you have tried just aren't cutting it, call us ASAP!