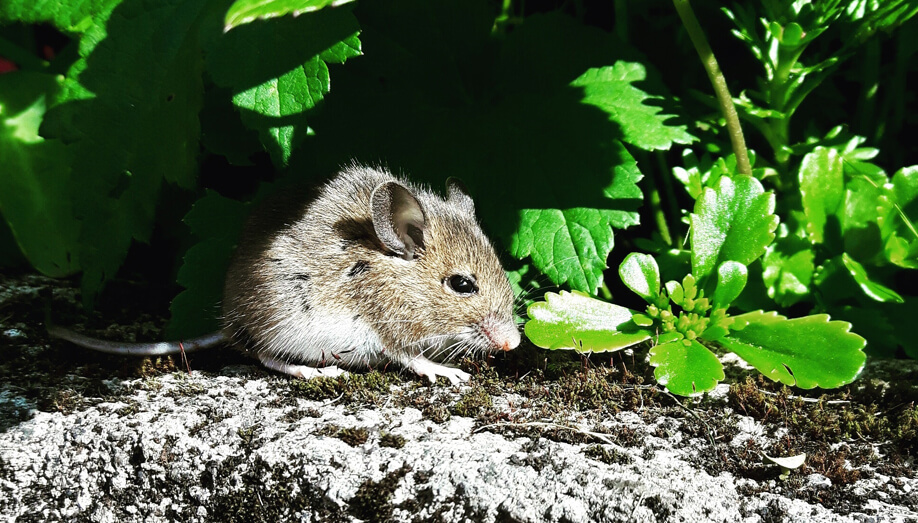 Effective rodent control is a collaborative effort between a pest control professional and a home or business owner. Rats and mice are formidable adversaries, and will require that the customer and pest management specialist work closely with one another.
The four steps to rodent removal are:
Trapping
Baiting
Rodent Proofing
Removal of Conducive Conditions
Follow these steps and your rodent problems will be gone in no time.
Trapping
Rat and mouse trapping is not rocket science. With a few helpful tips you will be trapping like a pro before you know it.
Many of our customers often ask, "What should I use for bait on my traps?" Great question! Most pest control technicians prefer to use peanut butter as bait. If you're not having any luck, you might want to consider using a different type of bait. Using food as an attractant is not always the best answer; sometimes using nesting materials as bait is a better option. Cotton balls, yarn or some type of fabric are a perfect place to start.
Where should I focus my trapping efforts? The answer will vary depending on the species of rodent you are chasing. If you have rats, odds are you won't need to place traps on the interior of your home or business. Rats are typically just as scared of you as you are of them, and will generally stay in your crawl space or attic. Focus your trapping efforts in the crawl space beneath your home or the attic space above.
Mice, on the other hand, are much different than rats. They are extremely curious critters, and will frequently venture into your living space. For mouse control, you will need to cover all your bases: attic, crawl space, kitchen, pantry, laundry room, etc.
There are so many different types of traps available, what kind of traps should I use to be successful? There are a number of factors to consider when choosing the right trap for the situation. Is it safe for children and pets? Will my customers see the devices and know that I've hired rodent removal professionals? How much money do I want to spend? All of these are valid concerns.
If the safety of children and pets are not a concern, then snap traps are recommended. Snap traps are relatively inexpensive and highly effective. If there is a potential for children and pets to tamper with your devices, then glue boards are a great option.
Baiting
Baiting is the next step towards getting rid of rodents. Baiting is the process of installing tamper-proof stations around the exterior of a structure, and then placing poison in those stations. The stations must be locked, secured in place, and properly labeled according to your local regulations.
The baiting process is where your pest control professional will shine. A fully licensed and trained technician has access to all the best and most effective products on the market. The department of agriculture ensures (for good reason) that these products are closely monitored and properly applied. If used improperly, many of these baits can have devastating effects on people, pets, wildlife, and the environment. Leave the application of poison to the professional company that is providing you with rodent removal services.
Rodent Proofing
Rodent proofing your home or business is paramount to providing a rat- and mouse-free environment for your family and/or co-workers. Without repairing entry points into a structure, the potential for a continued rodent infestation will go on indefinitely.
Many people equate a rodent problem with poor sanitation, and they are not wrong. Rats and mice, however, are creatures of opportunity and don't discriminate. If your home is immaculate—but not rodent proof—you may still develop a problem. You may keep a spotless home, have a perfectly manicured yard, and still end up with rodents in your home.
Finding and fixing these entry points is key! Some of your major culprits include compromised crawl space vents, unsecured crawl space doors, broken garage door weather stripping, cantilevered fireplaces and windows that have been improperly built, faulty construction, and torn roof vents. Any qualified pest control service professional should recommend that these entry points be fixed. Most rodent removal companies, Sentinel Pest Control included, will offer these repair services.
Mitigating Conducive Conditions
Addressing conducive conditions with homeowners and businesses is usually a tough topic of discussion, as people are often embarrassed and ashamed of the environment that they've created. Avoiding that conversation, however, would be doing them a disservice. Things like storing heaps of trash outside or inside, not picking up dog feces that collects in the yard, overgrown vegetation, large amounts of rotting fruit that has fallen and collected on the ground, and excessive amounts of clutter are all examples of controllable sanitation issues that need to be addressed.
In many cases, poor sanitation will lead to and completely exacerbate an infestation. Not all conducive conditions, however, are a result of poor sanitation; some are not nearly as intuitive. Putting up a bird feeder on the back patio, for example, is something that many of us have done. It's wonderful to watch all the birds come to feed, but it serves as a food source for all the rodents in the neighborhood. That phenomenal rock retaining wall that you just built is ideal harborage for rats and mice. That environmentally-conscious compost pile is perfect to keep rodents warm and safe. Be sure to address conducive conditions as part of your rodent control program.
Following these four steps will ensure that your family stays safe, happy, and healthy. If you need rodent removal services in Tacoma, Puyallup, Seattle, or anywhere in the Puget Sound area, call the professionals at Sentinel Pest Control!